Wayne Hussey (The Voice of The Mission) - Salad Daze Acoustic Tour 2019
Wayne Hussey &nbsp
Kulturkeller
Jesuitenplatz 2
36037
Fulda
Event organiser: Kreuz Fulda, Königstr. 52 - 54, 36037 Fulda, Deutschland
Information on concessions
Personen mit Behinderungen Ausweis B sowie Rollstuhlfahrer zahlen den vollen Eintritt. Begleitperson umsonst.
Event info
Jerry Wayne Hussey  is an English musician who was born in Bristol, England. He is best known as the lead singer of The Mission, and for being the guitarist with The Sisters of Mercy.

Hussey grew up in Bristol. He was influenced at a young age by Marc Bolan and his band T. Rex, and was thus inspired to become a guitarist. Brought up in the LDS Church, he rebelled against his parents´ wishes that he serve as a missionary and moved to Liverpool in the late 1970s to join the scene around Eric´s Club, a noted nightclub of the time.
Hussey started to perform, most notably with Pauline Murray and The Invisible Girls, with whom he started songwriting. The first success for Hussey came when he joined Dead or Alive at the request of frontman Pete Burns. After Burns retreated to become more studio-based, Hussey decided to leave and was offered a position with The Sisters of Mercy, concentrating on 12-string and 6-string guitars. When the Sisters of Mercy disbanded, Hussey and bassist Craig Adams set up The Mission, recruiting Mick Brown on drums and Simon Hinkler on guitars. He lived in Leeds for a while before moving to London towards the end of the 1980s.
Hussey has produced and played on records by The Mission´s Mercury Records labelmates All About Eve and in the late 1990s provided some remixes for Cleopatra Records. Hussey has played live with both Gary Numan and The Cure. He is a Liverpool F.C. supporter and after his team´s victory in the Champions League Final of 2005, he composed the song entitled "Draped in Red" featured on the album God is a Bullet. Hussey currently lives in São Paulo, Brazil
Location
Kulturkeller
Jesuitenplatz 2
36037 Fulda
Germany
Plan route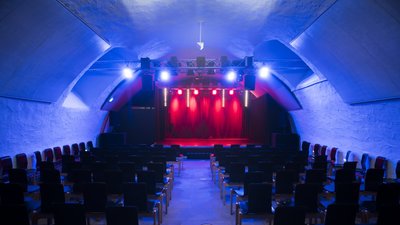 Von Konzerten aller Musikrichtungen über Kabarett und Comedy bis hin zu Theateraufführungen und Lesungen bietet der Kulturkeller im hessischen Fulda ein breites und abwechslungsreiches Veranstaltungsprogramm.

Mit jährlich mehr als 100 Events gilt der Kulturkeller als beliebter Treffpunkt und erste Anlaufstation für Kulturliebhaber. Bis zu 160 Personen können hier Platz nehmen und gemeinsam das außergewöhnliche Ambiente innerhalb der Räumlichkeiten genießen. Die Kellergewölbe versprühen einen besonderen Reiz und auch die moderne Licht- und Beschallungstechnik garantiert ein einmaliges Erlebnis. Zentral in Fulda gelegen ist sowohl der Schlossgarten als auch der Dom zu Fulda in wenigen Minuten zu erreichen. Der Bahnhof ist in nur 500 Metern entfernt und ermöglicht somit eine leichte Anreise mit dem öffentlichen Nah-und Fernverkehr.

Erleben Sie im Kulturkeller in Fulda zahlreiche Veranstaltungen aus den Bereichen Musik, Kabarett und Literatur und verbringen Sie hierbei tolle Stunden in einer schönen Atmosphäre.