TINA - The Rock Legend - The Ultimate Tribute - Explosiv! Authentisch! LIVE on stage!
Orangerie
Pauluspromenade 2
36037
Fulda
Tickets from €43.90
Concessions available
Event organiser: RESET Production, Straße des Friedens 200, 07548 Gera, Deutschland
Event info
Das einzigartige Tribute-Event "Tina – The Rock Legend" bringt Tina Turners feurige Bühnenshow auf Tour.

"Die große Tina Turner - eine absolute Ausnahmekünstlerin. Ihr einzigartiges Lebenswerk feiern und ehren - das ist unser Anspruch bei TINA - The Rock Legend" so Michael Noll, Geschäftsführer von Reset Production.

Die Verehrung für die Rock Legende spürt man in der aufwändig produzierten Multimedia-Show vom ersten bis zum letzten Ton.

"Nutbush City Limits", "Let's Stay Together", "What's Love Got To Do With It", "Break Every Rule", "Typical Male", "Foreign Affair", "Simply The Best", "GoldenEye". Ein Superhit jagt den nächsten – performed mit einer umwerfenden Wucht und leidenschaftlicher Bühnenpräsenz durch das hochkarätig besetzte Ensemble aus erstklassigen Sängern, Musikern und Tänzern ist das Tribute-Konzert unfassbar nah am Original.

Erleben Sie eine beeindruckende musikalische Retrospektive über das Lebenswerk des Superstars Tina Turner in einem einzigartigen Tribute-Konzert der Superlative.

Explosiv! Authentisch! LIVE on stage!
Videos
Location
Orangerie Fulda
Pauluspromenade 2
36037 Fulda
Germany
Plan route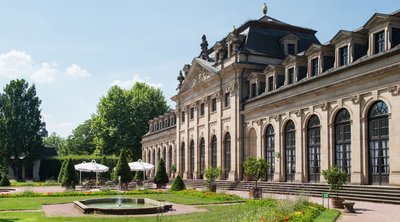 Nach Plänen von Baudirektor Maximilian von Welsch entstand zwischen 1721 und 1724, gegenüber dem Stadtschloss, die Orangerie. Heute gehört sie zum Hotel Maritim und zählt zu einem der beliebtesten Veranstaltungsorte für Feste, Tagungen und Ballnächte.

In zentraler Lage, am Rande des herrlichen Schlossparks gelegen, verfügt die Orangerie über mehrere Räumlichkeiten für diverse Veranstaltungen. Der große Saal wird unter anderem als Konzertsaal genutzt. Aber auch in der veranstaltungsfreien Zeit hat die Orangerie ein einzigartiges Flair zu bieten: In dem Café und Restaurant können die Besucher dann kleine Stärkungen oder hervorragend zubereitete Menüs vor der historischen, barocken Kulisse genießen.

Unter den prächtig ausgestatteten Innenräumen ist vor allem der Apollo-Saal sehenswert, der dem Hotel als Frühstückssaal dient. In atemberaubender Atmosphäre kann hier der Tag begangen werden.