The Music Of James Bond & More - All The Songs – All The Hits LIVE!
Stadthalle
Europaplatz 6-10
44575
Castrop-Rauxel
Tickets from €39.90
Concessions available
Event organiser: RESET Production, Straße des Friedens 200, 07548 Gera, Deutschland
Event info
The Music Of James Bond
25 Movies - One show – All The Hits Live
Band + Singers – Artists + Stunts
Weltpremiere am 12.03.2020 und große Deutschland-Tournee in weit mehr als 100 Städten bis Ende April 2021

The Music Of James Bond: Seit den 60er-Jahren bis heute ist die Musik der Thriller um den britischen Geheimagenten untrennbar mit den Filmen verbunden. Originalmusik aus "Skyfall", "Casino Royale", "Golden Eye", Moonraker" und viele mehr lassen Erinnerungen wachwerden an die Megaerfolge in den Kinos. Die Songs sind zeitlos und weltbekannt - Stars wie Tom Jones, TinaTurner, Madonna, Shirley Bassey und nicht zuletzt auch Adele machten die Songs der actiongeladenen Filme zu wahren Sternstunden der Filmmusik.

Hochkarätige Musiker, Sänger/innen, die Bond-Girls und eine Stuntcrew lassen The Music Of James Bond zu einem Erlebnis für Augen+Ohren werden.

Selbstverständlich geschüttelt und nicht gerührt …
Location
Stadthalle Castrop-Rauxel
Europaplatz 6-10
44575 Castrop-Rauxel
Germany
Plan route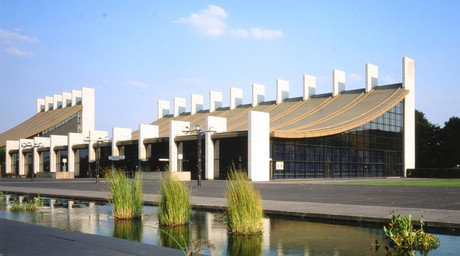 Am Europaplatz im Nordrhein-westfälischen Castrop- Rauxel befindet sich dieser einmalige Veranstaltungsort. Nur wenige Gehminuten vom Hauptbahnhof entfernt, steht die Stadthalle als kleines Wunderwerk der Technik. Mit verschiebbaren Hallenwänden und ein stufenweise versenkbarer Boden wird eine optimale, flexible Raumaufteilung/ - und Nutzung ermöglich. In einem atmosphärischen Rahmen können je nach Bestuhlung können max. 700 Personen Platz nehmen oder an Konzerten bis zu 1'000 Gäste feiern.

Neben Banketts- und Konzertveranstaltungen, wird die Stadthalle Castrop- Rauxel u.a. auch für Tagungen, Konferenzen, Ausstellungen, Hochzeiten und Kleinkunst wie Kabarett und Theater genutzt. Variabilität der Nutzung und die Besucherfreundlichen Gegebenheiten machen diesen Veranstaltungsort einzigartig.

Die zentrale Lage sowie das abwechslungsreiche Programmangebot der Stadthalle Castrop- Rauxels, lässt jede Veranstaltung unvergesslich werden.