Verschoben
Bisheriges Datum:
Take it to the Limit - ...verneigen sich vor den Eagles!
Alte Weberei Nordhorn
Vechteaue 2
48529
Nordhorn
Tickets from €28.50 *
Concessions available
Event organiser:
Kultur- und Tourismuszentrum Alte Weberei Nordhorn Betriebsgeselschaft mbH, Vechteaue 2, 48529 Nordhorn, Deutschland
Information on concessions
Menschen mit Schwerbehinderung dürfen ein kostenloses Ticket für eine Begleitperson buchen.
Bei Buchung des GN-Card Tarifs GN-Card beim Einlass vorzeigen.
Event info
"Hotel California" "Take It Easy", "New Kid In Town", "Desperado", "Take It To The Limit", "One Of These Nights". Die Welthits von The Eagles kennt wohl jeder und kann jeder mitsingen und ab und zu passiert etwas Magisches, wenn die richtige Kombination von Musikern zusammenkommt. Dies ist der beste Weg um die Band "Take it to the Limit" zu beschreiben!!

Johnny Brady, Simon Casey, Nigel Connell und The Sheerin Family Band sind in Irland etablierte und erfolgreiche Künstler unter eigenen Namen. Mit "Take it to the Limit" kommen sie zusammen, um eine der erfolgreichsten Country Rock Bands aller Zeiten zu ehren – "The Eagles".
Location
Kulturzentrum Alte Weberei
Vechteaue 2
48529 Nordhorn
Germany
Plan route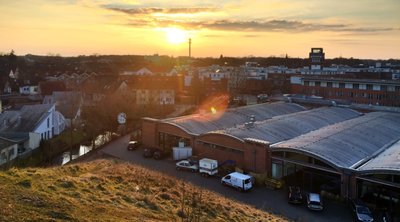 Die Alte Weberei ist eine wichtige Veranstaltungsbühne der Stadt Nordhorn an der niederländischen Grenze.

Der Saal des Kultur- &Tourismuszentrums Alte Weberei kann für fast alle nur erdenklichen Anlässe genutzt werden: Hochkarätige Konzerte, spannende Musicals, mitreißende Theatervorstellungen, romantische Hochzeiten, rauschende Bälle oder interessante Tagungen werden hier ein absoluter Erfolg.

Mit moderner Technik wird hier alles möglich!