Music Discovery Project
hr-Sinfonieorchester &nbsp
Jahrhunderthalle
Pfaffenwiese 301
65929
Frankfurt am Main
Tickets from €18.00
Concessions available
Event organiser: Hessischer Rundfunk, Bertramstr. 8, 60320 Frankfurt am Main, Deutschland
Event info
cresc… Biennale für aktuelle Musik

MUSIC DISCOVERY PROJECT
»MaschinenWerk«

SAMY DELUXE | Rap
CAROLINA EYCK | Theremin
STEVEN SLOANE | Dirigent

Die Begegnung verschiedener musikalischer Welten ist das Markenzeichen des Music Discovery Projects. Ungewohnte Kontraste und Mischungen zwischen Klassik und Pop, Orchester und Elektronik stehen hier stets im Fokus. Die Ausgabe 2020 bietet eine Premiere: Erstmals verbindet sich das grenzüberschreitende Musikprojekt des hr-Sinfonieorchesters Frankfurt mit einem interessanten Festival. Es bereichert die gemeinsam mit dem Ensemble Modern veranstaltete Biennale für aktuelle Musik »cresc…« – und dies als großer Eröffnungsevent.
Im Spannungsfeld des Festivalthemas HUMAN_MACHINE treffen die sphärischen Klänge des Theremins – eines der ersten elektronischen Musikinstrumente – auf die rhythmischen Kräfte des Rap sowie auf reichhaltige Orchesterfarben. Special Guest des Musikevents sind die deutsche Rap-Legende Samy Deluxe sowie die Theremin-Virtuosin Carolina Eyck, die dem 1920 entwickelten Vorläufer des Synthesizers ohne direkte Berührung geisterhafte Klangpatterns entlockt. Gemeinsam mit dem hr-Sinfonieorchester unter der Leitung von Steven Sloane garantieren sie ein packendes »MaschinenWerk« voll grooviger Energie, Vokal-Akrobatik und satten Beats.
___________

Encounters between different musical worlds are the hallmark of the Music Discovery Project. Here, the focus is on unusual contrasts and mixtures of classical and pop, orchestra and electronics always. This edition is a première: For the first time the cross-border music project of the Frankfurt Radio Symphony is being combined with an interesting festival, the Biennale for current Music »cresc…«, organised jointly by Frankfurt Radio Symphony and the Ensemble Modern. In keeping with the festival theme HUMAN_MACHINE, the Music Discovery Project juxtaposes the spherical sounds of the Theremin – one of the earliest electronical musical instruments – with the rhythmic forces of rap and rich orchestral colours. Featured guests include the German rap legend Samy Deluxe and the Theremin virtuoso Carolina Eyck, who coaxes ghostlike sound patterns from this precursor of the synthesizer, which was developed in 1920 and does not require direct touch, and. Together with the Frankfurt Radio Symphony, they guarantee a gripping »machine work« full of groovy energy, vocal acrobatics and pulsing beats.
Location
Jahrhunderthalle
Pfaffenwiese 301
65929 Frankfurt am Main
Germany
Plan route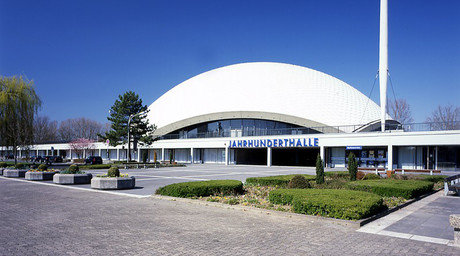 Die Jahrhunderthalle in Frankfurt am Main hat sich als internationales Kultur- und Kongresszentrum längst etabliert. Inmitten des wirtschaftlich florierenden Rhein-Main-Gebiets liegt die Halle besonders verkehrsgünstig und bietet somit den idealen Rahmen für internationale Großveranstaltungen.

Charakteristisch für die Frankfurter Jahrhunderthalle ist das in Glas eingefasste und von einer Kuppel überwölbte Auditorium. Unter dieser Sehenswürdigkeit befindet sich ein großer Saal, in dem über 2.000 Gäste Platz nehmen und die Besten der internationalen Show- und Musikszene genießen können. Die sieben Konferenzräume sind ideal für Tagungen, Seminare oder Workshops und werden gleichermaßen für kleine Ausstellungen, Bankettveranstaltungen oder private Feiern genutzt. Die moderne Architektur und die hochwertige Technikausstattung lassen jede Veranstaltung einmalig werden. Neben den ausgedehnten Grünflächen verfügt das Hallenareal über zwei Terrassen, ein Atrium, eine Wasserfläche und ca. 1.300 Gästeparkplätze. Der Frankfurter Flughafen sowie der Hauptbahnhof sind in etwa 15 Minuten zu erreichen.

In Frankfurt betraten bereits Größen wie Frank Sinatra, Jimi Hendrix, 50 Cent und Lady Gaga die Bühne des zukunftsweisenden Veranstaltungshauses. Lassen Sie sich von der einzigartigen Akustik und der außergewöhnlichen Bauweise faszinieren. Kommen Sie in das Kultur- und Kongresszentrum Jahrhunderthalle in Frankfurt am Main.