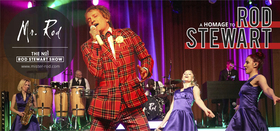 Mr. Rod - The No. 1 Rod Stewart Show - Live in Concert 2023
Museums Café am Stadtsee
Kurze Heide 19
27232
Sulingen
Event organiser:
Paulis Konzertagentur, Jasperallee 35, 38102 Braunschweig, Deutschland
Aus terminlichen Gründen der Spielstätte musste die Veranstaltung leider ABGESAGT werden. Wir bitten um Verständnis.
Event info
Die No.1 ROD STEWART SHOW!

Mit seiner markanten Stimme, seinen vielen Hits und nicht zuletzt seiner urigen Persönlichkeit begeistert er seit fünf Jahrzehnten weltweit sein ungebrochen zahlreiches Publikum – Rod Stewart.

"Mr. Rod", die in Europa exklusive Hommage an den britischen Weltstar und seine Lieder, überzeugt auf ganzer Linie mit einer professionellen Show voller emotionaler Höhepunkte.

Mit bestechend kreativen Interpretationen unvergesslicher Songs wie "Sailing",
"Maggie May", "Da Ya Think I'm Sexy", "Rhythm Of My Heart", "The First Cut Is The Deepest" und vieler anderer mehr, weiß der sympathische Könner "Mr. Rod" immer wieder zu faszinieren. Nicht nur in Europa, sondern auch in Metropolen wie Singapur, Hongkong, Miami, Caracas oder Dubai zeigten sich die Fans bei seinen Konzerten begeistert.

A-capella-Passagen und musikalische Animationen auf höchstem Niveau machen diesen mitreißenden Showact zu einem einmaligen Erlebnis von perfektem Entertainment.

Mit ganz großem Gefühl oder einfach nur ausgelassen rockig, ein Stück von jeder seiner vielen Facetten findet sich wieder an diesem Abend voller Erinnerungen und Überraschungen mit der Musik von Rod Stewart – in der unwiderstehlich guten Show von "Mr. Rod"!
Videos