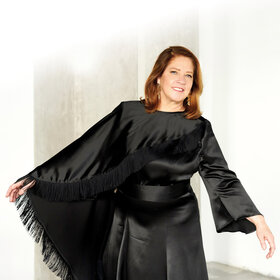 Kathy Kelly - gemeinsam mit dem Gospelchor Soul of Mosaic e.V,
Christkönigskirche
Kirchstr. 6
93342
Saal an der Donau
Event organiser: MCS, Am Herdchen 9, 51503 Rösrath, Deutschland
Der Termin wird verschoben. Es wird definitiv einen Ersatztermin geben. Karten behalten ihre Gültigkeit.
Event info
Kathy Kelly – langjährige Produzentin und Frontfrau der Erfolgsband The Kelly Family – überzeugt in ihrer Solo-Karriere mit zahlreichen Evergreens, gefühlvoll gesungenen Balladen, feurigen Hits sowie bekannten und neu arrangierten Gospels, Spirituals und Traditionals aus Deutschland, Spanien und Irland.

Wie sie selbst sind viele ihrer Geschwister nach wie vor in den Medien präsent: Paddy, John, Maite, Joey, Jimmy und nicht zuletzt Kathy sind bekannte Gesichter, die sich regelmäßig mit Erfolgen auf den unterschiedlichsten Feldern zurückmelden. Als Mitglied der singenden Großfamilie wurde sie gemeinsam mit ihren Geschwistern zur weltbekannten Kultband mit Millionen von Fans.

Die gefühlvolle Primaballerina, klassisch ausgebildete Opernsängerin und studierte Musikerin überzeugt mit einem breiten Repertoire an internationaler Musik und sorgt sicher für einen unvergesslichen Abend.