Auftakt | Beethoven & Dvorák
hr-Sendesaal
Bertramstraße 8
60320
Frankfurt am Main
Tickets from €20.00
Concessions available
Event organiser: Hessischer Rundfunk, Bertramstr. 8, 60320 Frankfurt am Main, Deutschland
Event info
BEETHOVEN & DVORAK

LOUIS SCHWIZGEBEL | Klavier
BEN GERNON | Dirigent

Anna Clyne | This Midnight Hour
Ludwig van Beethoven | 1. Klavierkonzert
Antonín Dvorák | 8. Sinfonie


Louis Schwizgebel ist passionierter Hobby-
Magier mit einem Händchen für Kartentricks.
Doch die Illusion, die er an den Klaviertasten
erzeugt, ist von subtilerer Natur. Er wird
Beethovens 1. Klavierkonzert interpretieren,
unter der Leitung des jungen Engländers Ben
Gernon. Dieser hat 2013 als erst 23-Jähriger
den »Young Conductors Award« der Salzburger
Festspiele gewonnen und gilt seitdem als
Shooting-Star unter den Dirigenten seines
Landes. Dass Antonín Dvoráks 8. Sinfonie, mit
der Gernon beim hr-Sinfonieorchester debütieren
wird, auch die »Englische« genannt wird,
ist allerdings wirklich nur eine Illusion – sie
klingt so böhmisch wie kaum eine andere.

___________

»Louis Schwizgebel is a passionate amateur
magician and a dab hand at card tricks. And yet
the illusion he creates on the piano keys is of a
quite subtler nature. He will be performing Beethoven's
1st Piano Concerto under the baton of Ben
Gernon, a young Englishman who won the »Young
Conductors Award« in 2013 at the Salzburg Festival
at the early age of 23 and since then has been
considered a shooting star among the conductors
of his country. Gernon is making his debut with
the Frankfurt Radio Symphony with Antonín
Dvorák's 8th Symphony which incidentally is also
called the »English«, although this is really
quite deceiving – it sounds more Bohemian than
virtually any other.
Location
Großer Sendesaal des hessischen Rundfunks
Bertramstraße 8
60320 Frankfurt am Main
Germany
Plan route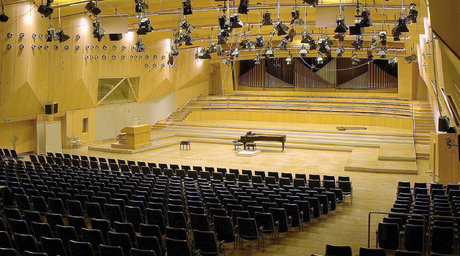 Von Klassik- und Jazzkonzerten, Kinderveranstaltungen, Kabarett, Previews, Lesungen und literarischen Gesprächen bis hin zum Deutschen Jazzfestival, Fastnachtssitzungen oder Fernsehübertragungen bietet der Sendesaal des Hessischen Rundfunks mit seinem Foyer Raum für die unterschiedlichsten Veranstaltungen. Die besondere Qualität des 1954 eingeweihten und 1987/88 komplett umgebauten hr-Sendesaals, der mit hellem Naturholz getäfelt ist, liegt nicht nur in seiner hervorragenden Akustik, sondern auch in seiner Multifunktionalität: Er ist Konzertsaal, Proberaum und modernes Tonstudio in einem, hier arbeitet das hr-Sinfonieorchester und gibt zahlreiche Konzerte, hier werden aber auch regelmäßig CD-Produktionen realisiert. An seiner Stirnseite verfügt der hr-Sendesaal über eine Konzert-Orgel. Der Publikumsbereich bietet bis zu 840 Sitzplätze.